Stop vehicle thieves
1 December 2004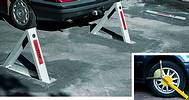 The Carstop parking post consists of two channel shaped arms hinged by a 20 mm axle at the extremities of a tray. The tray is concreted into the ground, increasing the integrity of the unit and making the mounting tamperproof. The device is activated by lifting both arms and locking them together at the top with an integral, encapsulated push lock that is secure and tamperproof. The A-frame thus formed creates the best possible vehicle barrier. When the car is reversed against the unit the bumper rides up the A-frame reducing pressure off the wheels until the tyres lose traction and spin, immobilising the vehicle. All this time the force and weight of the vehicle is directed into the concrete base, exerting minimal force on the axles of the Carstop. The heavier the vehicle, the stronger the unit becomes.
Installation is quick and easy. The depth of the excavation is a mere 250 mm, well away from all services and is neat and tidy. There is a down locking facility in the standard unit. Carstop can also be ordered with a disc type lock. A surface mounted model is available for suspended floors and its height has been reduced to just over 60 mm to accommodate low vehicles.
The patent holders and manufacturers of Carstop are Razor-Spike International, which pioneered and made a name for itself with Razor Spike anticlimb wall and perimeter spikes in both the local and overseas markets.
A range of portable wheel clamps is also available. These products provide visual, physical protection to vehicles and trailers.